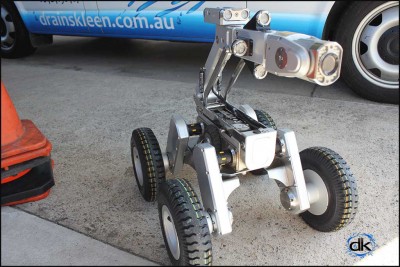 CCTV Survey of Sewer and Stormwater Drains
Recently, I was called carry out a CCTV pipeline inspection (survey) of the sewer and stormwater at a construction site. I had re-arranged a few other less urgent jobs, to get there that day, because as usual, the builders had requested it be done 'as soon as possible' so they could send the reports through to the engineers for approval, before moving on to the next stage of the project.
On arrival I set everything up lowered the CCTV tractor camera into the pit and began the survey, everything was as it should be, I continued the CCTV pipe inspection (survey) for the remainder of the sewer lines, reporting where necessary, but so far, I had found no major defects. ''Looks like todays job will be a pretty straight forward one'' I thought.
With the sewer lines already surveyed, I retrieved my camera and started the CCTV pipeline inspection of the stormwater, the first and second were fine, as I began the CCTV survey in the third of five stormwater pipelines, I noticed immediately as I entered, the line had some rubble in it. With the large under carriage the CCTV tractor camera was able to pass the initial build up but about 20mts in the rubble became un-passable blocking off at least 30% of the 900mm stormwater drain.
I knew if I attempted to inspect from the opposite end, I would be faced with the same issue, so I immediately went to the next manhole and attempted the CCTV inspection (survey) of the remaining lines, but I soon came across a similar amount of rubble, rocks dirt and sand. The rain at the beginning of the week must have washed it in, I had no choice but to 'abandon survey'.
Luckily I had brought my trailer jetter to the job, so I phoned the construction manager and discussed how he wanted me to proceed, he agreed for me to jett clean the stormwater lines and complete the CCTV pipeline inspection once they were clear.
I set up the jetter, cleared the pipes of all debris and rubble and was back on track in no time.
I finished up the survey, and got the reports to the engineer with no major defects to report, the job was done and everyone was happy.