Save $$ with Patch Drain Relining!
Repair cracked, broken drains or damaged pipes
Sectional patch drain relining is suitable to restore all pipe sizes. A perfect repair method for pipes with difficult access. Including small residential drains, as well as large civil mainlines.
Patch Drain Relining – also known as No-dig pipe repair / Trench-less pipe relining / Mainline patching / Pipeline rehabilitation / Sectional drain repair/ CIPP
Drain relining, specifically designed to repair damaged pipes; Beneath the under slab of your home, under beautiful landscaped gardens, retaining walls, concrete driveways and swimming pools. As well as, under car parks, roads, offices and shopping centers or any other structure / foundation which can not easily be dug up.
Patch drain relining may also be considered to prevent leakage and ground water infiltration at pipe joints, pipe walls & lateral junctions. Sealing offset pipes, cracks and ruptures from mechanical wear, construction or corrosion.
A variety of reline repair kits, allows for patch drain relining of various sized domestic pipes and junctions. Not only around your home, BUT also for larger industrial / commercial pipes, as well.
dRAINS kLEEN Chooses to use only the highest quality relining products. Both German designed drain relining methods, EPROS and Brawoliner, are structurally tested with a life expectancy of 50+years and engineered to meet worldwide standards.
Relining small pipes
To rehabilitate smaller residential / commercial drains, dRAINS kLEEN uses Brawoliner. A felt liner is wet out with the resin compound before being inserted into the drain. Each liner not only covers the damaged section of pipe, but penetrates the cracks, completely adhering to the pipe wall, both strengthening & sealing that section of drain. We use this method for pipes 300mm, including junctions relining.
Inversion liners are installed to repair long runs of damaged drains, Click here for more information on inversion relining.
Relining large pipes
We choose the EPROS patch repair system, for sectional repairs to civil drainage, up to 600mm in diameter. The fibre glass wrapped bladder is inserted into the damaged section of the drain and inflated until the resin has set. Both sealing the cracks and reinforcing the surrounding area.
The benefits of patch drain relining are many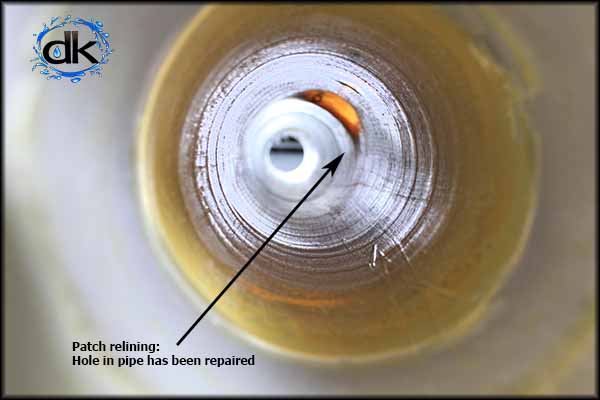 As you can imagine, without having to replace or disturb expensive infrastructure which lies above a broken drain, you WILL $AVE.
$AVE your home / landscape
$AVE your pipes /drains
$AVE your money $$
$AVE your time
Restore drains with reline
Experienced technicians from dRAINS kLEEN rehabilitate your drains from the inside, without disturbing the foundations above.
A smooth, strong and watertight interior lining, which water and waste can pass through. Impenetrable by anything from the exterior, including tree roots, for many, many years to come.
These industry leading patch drain relining systems, essentially form a pipe within the existing damaged pipe.
Resin fills all of the joints & cracks, completely sealing the problem areas.

The patch drain relining process is complete once the resin has set and the bladder is removed.